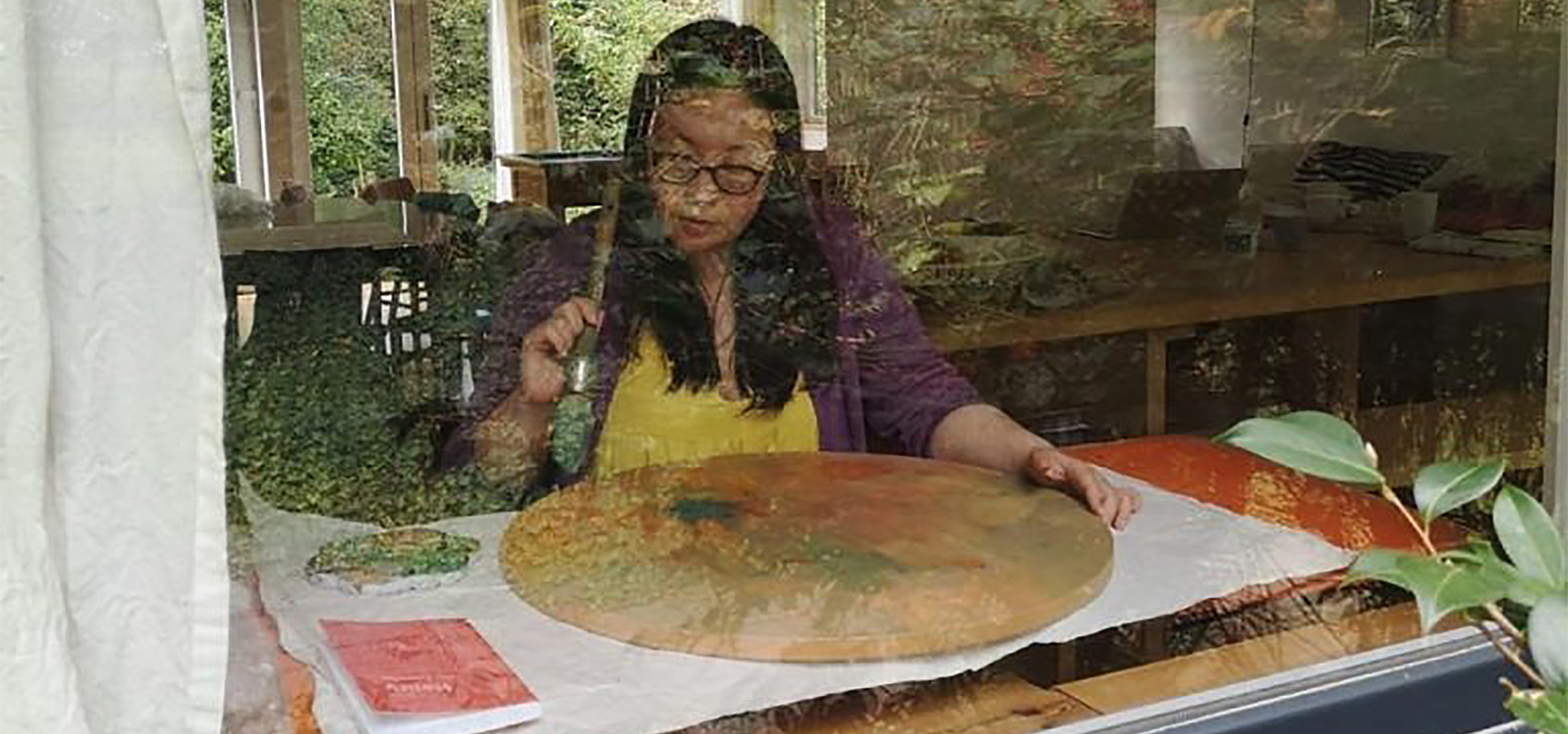 Au-delà de …
From 10/09/2020 to 10/10/2020
In residence at ODRADEK, Dandan Jiang has created a series of abstract landscapes inspired by traditional Chinese aesthetics.
Professor of Philosophy in Shanghai and visiting professor at the Sorbonne, she is expanding her field of research both in theory and in pictorial practice.
At a very young age, in collusion with her father, she started painting, and began her attachment to "mountain-water" landscapes, while giving them a contemporary expression later on.
By linking the past to the present, she opens herself to the dialogue between the different generations of artists and thinkers whose intrinsic dynamics she identifies, already with the interest of a theorist.
Very quickly, in search of cultural discoveries, Dandan Jiang felt attracted to Western modernity. The work of Kandinsky and then Michaux made her aware of the essential stakes of abstraction. The change of focus regarding the question of figuration as well as the art of line and gesture opened up multiple fields of exchange and discussion for her.
With this perspective of intercultural practices and reflections Dandan Jiang, who is spending the summer in residence at ODRADEK, will share the exhibition space with the Belgian-Finnish artist Anna-Maija Rissanen. Both are inspired by nature and its atmospheric ambiences. Both are engaged in academic research and sharing of mixed media techniques and are experimenting with new cultural approaches. Dandan Jiang lives part of the year in Paris while Anna-Maija Rissanen, after studies in Brussels (Fine Arts) and Hangzhou (traditional Chinese painting at the Chinese Academy of Arts), is pursuing a doctoral thesis in …Shanghai.
The duo's exhibition is entitled "Beyond …» The aim is to establish connections and correspondences between the two artists but also to promote the urgent need for international cooperation. Dandan Jiang thus enjoins us to go beyond the withdrawal into ourselves provoked by the current crises.
By associating Dandan Jiang's landscapes with Anna-Maija Rissanen's meditative compositions, the exhibition justifies the validity of surpassing oneself in the exchange with the other. The two artists show us that today more than yesterday we must be able to overcome our prejudices and preconceptions.
It is in this state of mind that they deliver their inner world to us by exhibiting unique books in the gallery's library. Anna-Maija Rissanen presents sketchbooks and Dandan Jiang intervenes in books including classical poems translated by the Belgian Thierry Faut, a passionate reader and translator of Chinese poetry.
The pairs thus formed will allow us to multiply the meetings between amateurs of landscaped spaces, readings-discoveries of Chinese poetry and artists' books in the presence of their authors.
"Beyond …" invites us to experience and appreciate the in-between: nature-culture, East-West, theory-practice, oneself and the other.