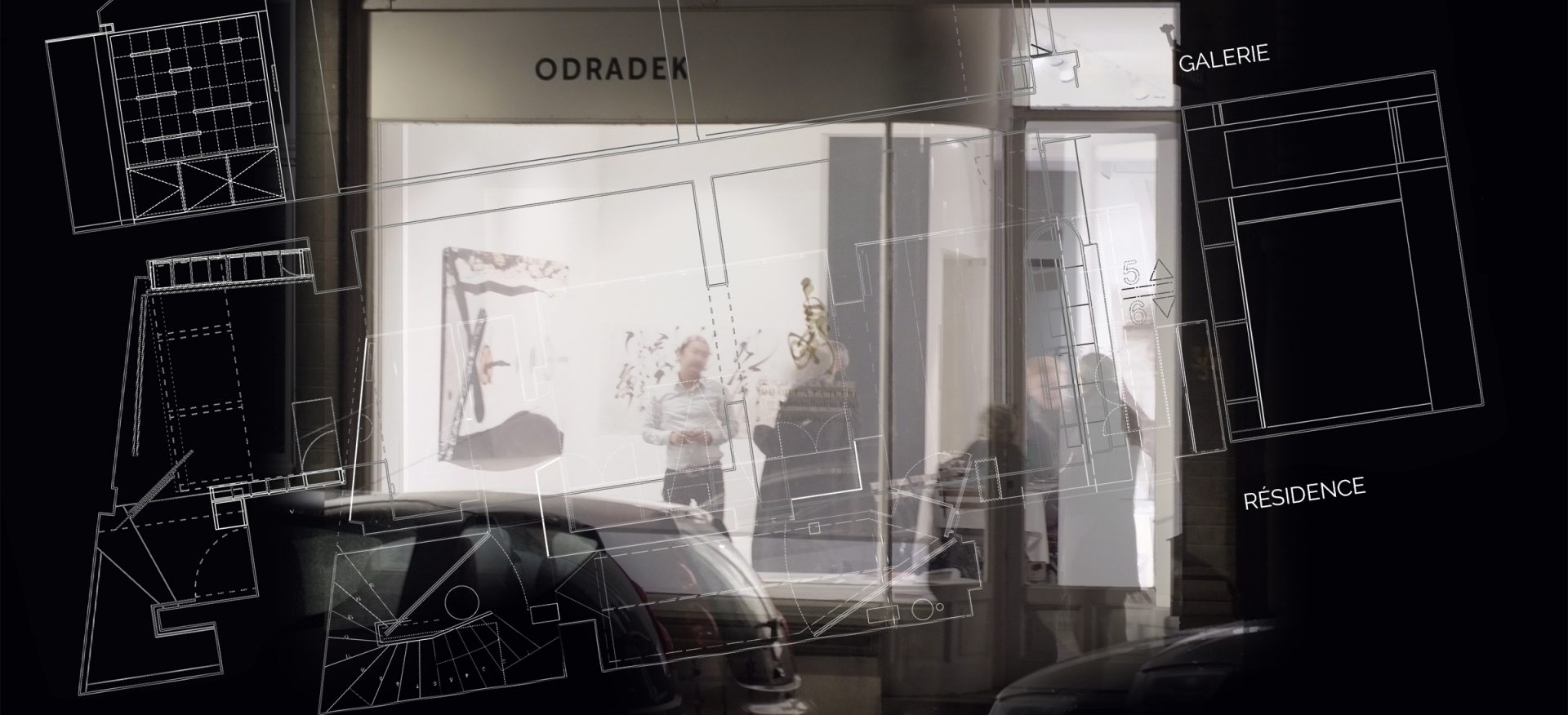 Open
Friday + Saturday
2 – 6pm or appointment
Rue Américaine 35
1050 Bruxelles
+32 475 27 38 77
Send an email
ODRADEK RESIDENCE
CALL FOR PROJECTS
The collective ODRADEK DESS(E)IN, is looking for artists engaged on a journey about writing in the form of drawing, spatial poetry or abstract graphics, visual and gestural language.
We propose, during the months of July and August, a residency – exhibition "work in progress" at the gallery.
Application files including a CV, a presentation of the approach and some visual materials are to be sent before May 1st to the email address: odradekresidence@gmail.com.
INTRODUCTION
ODRADEK offers residencies for visual artists as well as an exhibition space, stimulating artistic creation and reflection.
ODRADEK is seeking to develop a cross cultural dialogue. To this end,  artists are invited to stay in Brussels and produce art works on site, related to their temporary immersion in European culture.
ODRADEK acts as an intermediary with art schools and other contemporary art institutions in Brussels – giving foreign artists the opportunity to propose workshops or to present their work to a range of places and audiences during their stay in Brussels.
IN PRACTICE
ODRADEK is located close to the Horta Museum, between Ixelles and Saint-Gilles – two communes located in the centre of Brussels that are characterized by their thriving artistic activity. ODRADEK aims to benefit from this central location and proximity to different internationally established art galleries.
ODRADEK is a 2 month (maximum) residency offering invited artists the possibility to develop their work, followed by an exhibition to promote the artist's work to the Brussels artistic community and beyond.
ODRADEK works on the basis of personal invitations but also welcomes voluntary applications. ODRADEK is orientated towards collaborations with Brussels contemporary art world– providing invited artists a place to stay, work and exhibit during their stay in Brussels. The apartment in the basement offers a comfortable living environment, including a fully furnished kitchen, a two-person bedroom and a bathroom.
STAFF
ART DIRECTION
Simone Schuiten
ART ADVISOR
Kiran Katara
PROJECT MANAGER
Xiaoman Li
SPACE DESIGN ARCHITECT
Philippe Honhon
GRAPHISME
André Moons – Séraphine Graphics