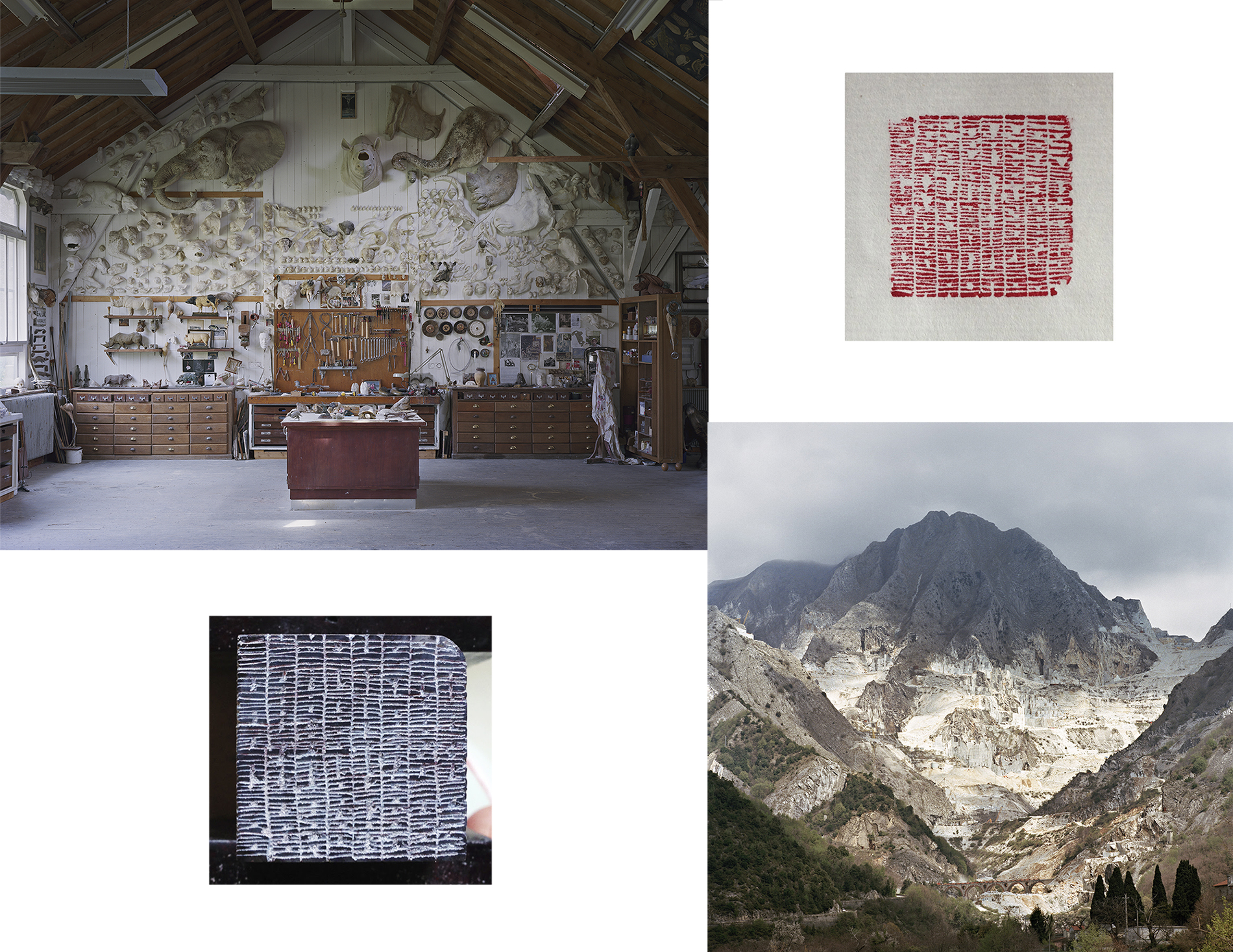 EXHIBITION | Saint-Gilles
OPENING
04/05/2023 à 18:00
FINISHING
27/05/2023 à 16:00
Faire impression
From 05/05/2023 to 27/05/2023
Leave an impression
M.F. Plissart's contextualisations and L. Wei's small inscribed objects
Combining photographs and engraved seals, Marie-Françoise Plissart and Lia Wei engage in a dialogue based on the association of ideas, printing processes, adventures and experiences they have shared both in China and Belgium since 2010.
The two associates correspond from one wall of the gallery to the other, constantly moving from the image of the stone or the mountain to that engraved on the seal.
Fascinated by the workshop of a taxidermist trying to reconstitute the appearance of animals that lost their lives, Marie-Françoise Plissart offers us her vision of this atmosphere with its troubling context. These portions of animals, not yet recomposed, and the array of tools used to assemble them, correspond or are in some way related to the lines incised in the stone of Lia Wei's seals. In both cases, a reconstitution takes place from something known which leads to another, unknown, magical or symbolic arrangement. The argument is cosmocentric. The atmosphere of the studio reveals a universe in itself that is well organised according to the dispositions of the artist-creator. All the elements composing the larger picture corroborate this feeling of genesis.
On the other wall of the gallery, the cabinet facing the photographs serves as a display case for the engraved seals. It reveals a small world of stones which the iron brush, by removing fragments of characters from the logic of writing, has chiselled out in complete freedom of expression. The line that emerges is seen acting as an image.
In this context, a combinatorial dialectic is set up in search of common denominators and assembly logics. Marie-Françoise Plissart puts herself at the disposal of Nicéphore Niepce's first photograph (1827), which she reproduces in different ways and which she associates with a seal sharing the same geometry. Since the aim of both artists is to "develop" works, the question of the transmission of forms and their articulation is constantly on their minds.
The first photographic impressions belonging to the heliographic process were called "sun drawings". Thus, reality, whether animal, vegetable or mineral, is the starting point of an approach that Marie-Françoise Plissart and Lia Wei pursue throughout this exhibition without being able to dissociate what belongs to nature or culture.
The consideration of a place, a situation, an active material support allows Marie-Françoise Plissart to relate to the small inscribed objects of Lia Wei thus giving rise to a truth of proximity. This reveals the great vitality of a world that we refuse to see in a unilateral way, but rather in an associative, adaptive and above all imaginative way.
Simone Schuiten
Translated by Renaat Beheydt