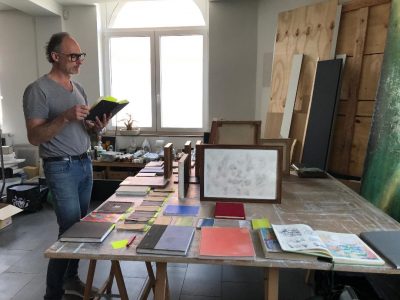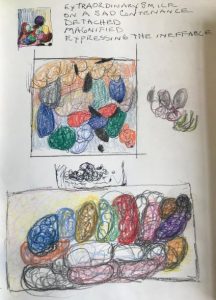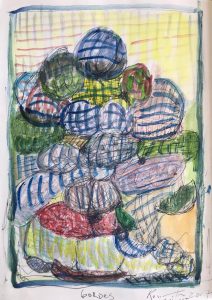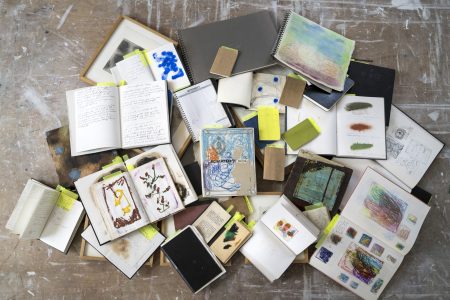 Born in California in 1965 – Lives and works in Belgium
Jeff Kowatch, born in California in 1965, moved to Belgium 20 years ago after working in New
York for about ten years. He developed a colourist painting marked by the great American
abstracts, from Mark Rothko to Brice Marden and, for the technique, by the great Flemish
painters, Rembrandt in particular, whose recipes for linseed oil he has reclaimed, which give
his painting a particular effect of depth and transparency, typical of the northern glazes. In
these oil-stick drawings on Dibond, it is energy that takes precedence over meditation, served
by extraordinarily living matter.
Jeff kowatch, in search of the universal
Very young, inspired by a mystical faith, Jeff Kowatch prays to God to give all men the same enlightenment.
Attracked by painting and the great religious themes, the young man develops a need for spirituality by symbolizing in an increasingly abstract way Christ on the cross, the Virgin Mary and the apostles.
Gaining in maturity, the artist renounces the foundations of Western mimesis to give himself, as intensely as possible, to the pursuit of a universel spirituality. Whether through meditation or the practice of Zen Buddhism, Jeff Kowatch is in search of balance and harmony to transmit through painting.
Refusing to be figurative, he keeps the subject matter, covering it with successive layers of oil glazes. The metanarratives (Moby Dick, Don Quixote,…) continue to mobilize him, just like the existential anguish that haunts him. Both are converted in his painting into points of balance. On the canvas, conflicts disappear in favor of colors full of light vibrating in unison with this quest for universality.
The exact correspondence with things, the identity to oneself are abandoned in favor of a permanent movement that circular organic forms evoke. The colors then at work in Jeff Kowatch's thinking and practice reveal the existential dimension of his paintings. Routing and openning sight, large formats favor a conversion of our way of perceiving things.
In search of a vital energy and a form of intimacy that can be shared, Jeff Kowatch tirelessly offers us a vibratory song of weightless colors. The allow him to implant a receptive device open to the world by the matter and the light which immerse it in the unknown.
Simone Schuiten, ODRADEK, 2021