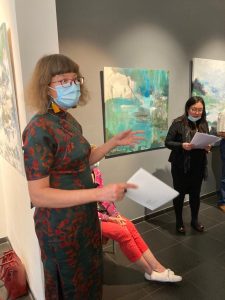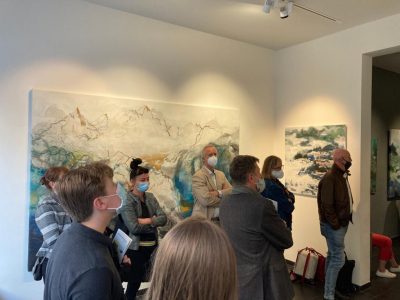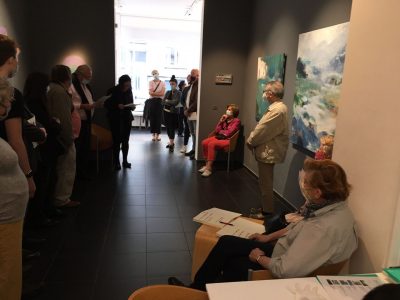 Anna-Maija Rissanen was born in 1983 in Järvenpää, Finland. She lived from 1995 to 2009 in Brussels, Belgium. She graduated in 2009 with a Master of Arts from the Royal Academy of Fine Arts in Brussels and also obtained a diploma as an art teacher. In 2009, she won the first Godecharle prize awarded by the Godecharle foundation, which gave her the opportunity to continue her studies in China. In 2012-2013, she studied traditional Chinese painting techniques at the China Art Academy in Hangzhou. From 2019 to 2023, she began her doctoral studies in arts at the Shanghai Academy of Fine Arts (SAFA).
Between 2009 and 2019, she worked as a professional painter, organizing a total of 19 solo exhibitions and participated in over 40 group exhibitions which also include art fairs and international competitions. She is also an art teacher and an active member of artistic associations in Finland.
Anna-Maija Rissanen finds her inspiration in nature and in the traditions of Chinese and Japanese aestheticism. She paints meditative landscapes comprising rocks and spaces of water, between figurative and abstract, between western and eastern representations. She seeks in these works the balance between fragility and strength by using different techniques such as watercolors, acrylics, ink, collage and engraving among others on various supports.
ARTISTIC TRAINING
2019-2023 Doctorate of Arts (PhD), Shanghai Academy of Fine Arts (SAFA), Shanghai, China 2008-2009
Master in plastic arts (2nd degree), and aggregation in plastic art, Royal Academy of Fine Arts of Brussels, Belgium
2004-2008 Baccalaureate and Master in visual arts (1st degree), Royal Academy of Fine Arts of Brussels, Belgium
2015-2019 Several courses on engraving: traditional techniques (prof. Hannu Hyrske); non-toxic technique (p: Susanna Autio); monotype (p: Maritta Meckelborg), Finland
2012-2013 Studies of Traditional Chinese Painting, International Non-Degree Program, China Art Academy (CAA), Hangzhou, China
2011-2009 Course on traditional Chinese painting; teacher. Wang Liu Huo; Li Xinsheng, Finland 2006-2007
Erasmus exchange in Quimper, France
PRIX
2016      Prix International Confederation art critics (ICAC), Angleterre 2009
Prix Godecharle, peinture (Fondation Godecharle)
2008      Prix Alaux-Bakes, peinture (Académie Royale des Beaux-Arts de Bruxelles, Belgique)
NOMINATIONS
2019      Excellence Jury Prize – Mixed Media of 'Enter into Art' 2019, l'Allemagne
2012      Maurits Naessens Prijs 2012, Maison cultural de Meise, Belgique
2012      Le Prix des arts de Woluwe-St-Pierre, WSP municipal house gallery, Bruxelles, Belgique
2008      11th Concours Internationale de la peinture, Poperinge, Belgique
2007      Goldener Kentaur – Occident-Orient, Concours ouvert pour les jeunes peintres européens, Munich, Allemagne
EXPOSITIONS SOLO
Coming in 2021      Drawing Gallery D5, Helsinki, Finlande
2019       Ambassade de la Finlande, Bruxelles, Belgium
2019, 2016, 2015, 2011      Galleria Bronda, Helsinki, Finlande
2018      Krapin Paja, Tuusula, Finlande
2018, 2010      Galleria Järnätti, Järvenpää, Finlande
2015      Galleria Aino, Järvenpää, Finlande
2014      Promenaadi galleria, Hyvinkää, Finlande
2014      Galleria Taikka, Järvenpää, Finlande
2014      Akvart Galleria, Helsinki, Finlande
2013      China Art Academy, Hangzhou, Chine
2012      Galerie Evelyne Héno, Paris, France
2011      Gallery of Peijas, Vantaa, Finlande
2011      Galleria Kapriisi, Tampere, Finlande
2010      Maison d'Artistes, Järvenpää, Finlande
2009      Liike 6 Gallery, Helsinki, Finlande
2009      Paysages urbains et ruraux, Vicar Art Gallery, Bruxelles, Belgique
EXPOSITIONS DE GROUPE
2020      Taidepuisto, art environmentale, Maison d'Art, Järvenpää, Finlande
2019      Pigment ! membres de l'Union de Peintres, Maison d'Art, Järvenpää, Finlande
2019      Ink conversations II, Red Conception gallery, Helsinki, Finlande
2019      Promenaadi Galleria, exposition de l'Association des arts de Järvenpää, Hyvinkää, Finlande
2019      Enter into art -exposition qui voyage, trois villes: Cologne, Bonn, Bad Ems, l'Allemagne
2019      International Art circuit (Rio de Janeiro, Osaka, New York, Berlin, Helsinki), Ava Galleria
2019      Artistes de Taikka, Maison d'Art, Järvenpää, Finlande
2018      Association d'Art de Järvenpää -60 ans, Musée d'art de Järvenpää, Finlande
2018      Arte Nordica Fabriano, exposition internationale d'aquarelle, Fabriano, Italie
2018      Art camp, Chateau d'Amadé-Bajzáth-Pappenheim, Iszkaszentgyörgy, la Hongrie
2018      Taidepuisto, exposition d'art environmentale, Vanhankylänniemen kartano, Järvenpää, Finlande
2018      Enter into art -exposition qui voyage, trois villes: Cologne, Weissenthurm, Kobern-Gondorf, l'Allemagne
2017      Identité, K41 galerie, Bruxelles, Belgique
2017, 2016, 2014, 2011      Arteground Art Festival, Viljandi, Estonie
2017      Flyer Art Gallery avec Caelum Gallery, World Wide Art exhibition, New York, USA
2017      Enter into art -exposition qui voyage, trois villes : Köln, Diez, Nassau, l'Allemagne
2016      Galleria Taikka, avec Jariveikko Minerva, Järvenpää, Finlande
2016     Le pouvoir du silence, Galleria Fogga, Helsinki, Finlande
2016     Le printemps arrive, Fu dai -projet art de paquet, Musée d'art Contemporain de Sanshang, Hangzhou, Chine
2015      Promenaadi galleria, avec Jariveikko Minerva, Hyvinkää, Finlande
2015     K-16 gallery, Vác, la Hongrie
2015     Galerie Böhner, Mannheim, l'Allemagne
2015     Kauneudesta mielenrauhaan, galerie de bibliothèque de Tuusula, Finlande
2014      EGOS VIII, Royal Opera Arcade gallery, Londres, Angleterre
2014     Akvart Gallery, Helsinki, Finlande
2014     Baggå festival, installation, Skinnskatteberg, Suède
2013     Veteen piirretty viiva, Musée d'art de Hyvinkää, curation par Markku Valkonen, Finlande
2012      Time, Arteground Art Festival, Wagner+Partner Gallery, Berlin, l'Allemagne
2012     Unissa maailmalla unelmissa, Galerie de Maison communal de Hanko, Finlande
2012     Palikkaooppera, exposition et performance à l'ouverture de nouvelle Musée d'art de Kerava, curation par metteur en scène Kristian Smeds, Finlande
2012     Hybrid, avec Jari-Veikko Minerva, Maison d'Art, Järvenpää, Finlande
2012     Festival d'Art au Château de Lavaux-Sainte-Anne, installations, Rochefort, Belgique
2012      Maurits Naessens Prijs 2012, nominations, Maison Culturelle de Meise, Belgique
2012      Le Prix des arts de Woluwe-St-Pierre, nominations, la galerie de Maison communale, Belgique
2010      Montagnes voyageant dans le paysage -installation entre les arbres, Oranki Art 10, Pello, Finlande
2010      Des montagnes et des sculptures, avec Cornelia Colliander, bibliothèque de Kirkkonummi, Finlande
2010      Spring Revival, Concept Artitude Gallery, Bruxelles, Belgique
2009-2018      Association des arts de Järvenpää, Galleria Järnätti et Maison d'Art, Järvenpää, Finlande
2009      Godecharle, les élus, Académie Royale des Beaux-Arts de Bruxelles, Belgique